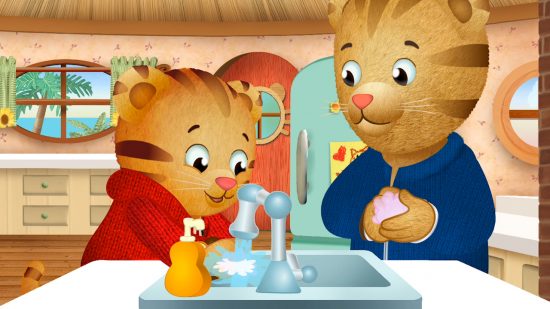 Resources to help Families during COVID-19
We understand that many families are now trying to find their new "normal" in light of the news of COVID-19, known also as coronavirus. As an organization committed to providing quality entertainment and resources for children and families, we want you to know that Fred Rogers Productions is here for you in these difficult and uncertain times.
This page contains a list of all of the virtual events, activities, and other social initiatives we are sharing online.
We are sharing one activity, craft or recipe each day on our Facebook, Twitter, and Instagram pages.
Daniel Tiger's Neighborhood
Watch on the PBS KIDS Video Player and Amazon Prime
"How to Talk to Your Kids About Coronavirus" via PBS KIDS for Parents
"How You and Your Kids Can De-Stress During Coronavirus" via PBS KIDS for Parents
When Something Scary Happens: Resources to Help Families Cope in Emergencies and Other Challenging Times via PBS KIDS for Parents, includes activities and tips such as Draw Your Feelings, How to Prepare Children for Unexpected Events and Emergencies, and Helping Children Cope After a Crisis or Emergency.
"Celebrate a special birthday with Daniel Tiger and Tigey," a song to sing when families cannot celebrate birthdays in person, via PBS KIDS
Sing along to your child's favorite songs from Daniel Tiger's Neighborhood and watch clips from the show in the free Daniel Tiger For Parents App, via PBS KIDS in English and Spanish
"Daniel Misses Grandpere," a digital storybook to help children manage feelings of missing loved ones during social distancing, via PBS KIDS for Parents
Virtual Storytime with Matthew Cordell, author and illustrator of "Hello, Neighbor! The Kind and Caring World of Mister Rogers" on the Fred Rogers Productions Facebook page
Virtual Storytime with Gisele Fetterman, Second Lady of Pennsylvania, on the Visit PA Facebook page.
Activity sheets and other tips at PBS KIDS for Parents
Mister Rogers' Neighborhood
Watch on the Mister Rogers' Neighborhood Legacy Website, the PBS KIDS Video Player, and Amazon Prime
Instagram takeover with Matthew Cordell, author and illustrator of "Hello, Neighbor! The Kind and Caring World of Mister Rogers" on the Fred Rogers Productions Instagram page
Draw Along and Read with Luke Flowers, illustrator of "A Beautiful Day in the Neighborhood: The Poetry of Fred Rogers" live event on the Fred Rogers Productions Facebook page
Peg + Cat
Watch on the PBS KIDS Video Player and Amazon Prime
Virtual Story Time with Peg + Cat co-creator Billy Arsonson on the show's Facebook page
Virtual Story Time with Peg + Cat co-creator Jennifer Oxley on the show's Facebook page
Activity sheets and other tips at PBS KIDS for Parents
Odd Squad
Watch on the PBS KIDS Video Player and Amazon Prime
"Odd Squad Healthy Habit #111: How to Stay Away from Germs," video from The Big O with tips for staying healthy, via PBS KIDS
"Odd Squad Healthy Habit #339: Social Distancing," video from The Big O with tips for staying healthy, via PBS KIDS
Activity sheets and other tips at PBS KIDS for Parents